The societal effects of the coronavirus pandemic in the 8th district of Budapest
A joint online event organized by Friedrich-Ebert-Stiftung and Political Capital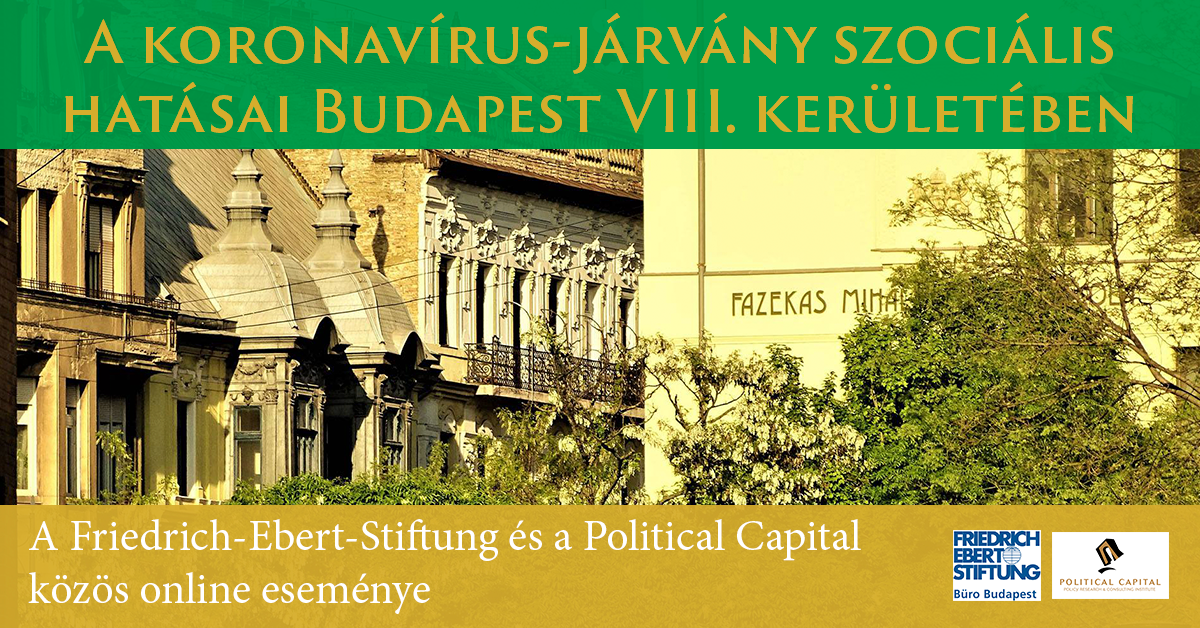 Date: September 16, 16:00-17:00
Venue: online event
Language: Hungarian (with English translation)
A state of danger was declared in Hungary on 11 March in the wake of the emerging coronavirus pandemic in the country. Afterwards, with the special legal order in place, several restrictions were implemented. The state of danger lasted until mid-June. Due to the restrictions, the private lives of citizens changed radically, the economy and the operation of numerous institutions came to a halt. Our local public opinion poll and case study aimed at measuring the economic, societal consequences of this period in the 8th district of Budapest, which is one of the most diverse and poorest districts of the capital. We will discuss the results of the research, and its societal and political connections with our invited guests.
16:00-16:15 Opening remarks
János Molnár, Friedrich-Ebert-Stiftung
Péter Krekó, Political Capital
András Pikó, mayor of VIII. district (Józsefváros)
16:15-16:25 Coronavirus and its effects in Józsefvárosban
Bulcsú Hunyadi – senior analyst, Political Capital
16:25-17:00 What is awaiting us after the virus in Józsefváros?
György Molnár – Institute of Economics (KRTK), chief advisor to the mayor of Józsefváros
István György Tóth – director of Tárki Social Research Institute
Tessza Udvarhelyi – head of office, Community Participation Office, local self-government of Józsefváros
Moderator: Krisztina Bombera – jouranlist
Registration is required for participation in the event. Please register on the following link: https://us02web.zoom.us/webinar/register/WN_MJdEGV3XT_6fHFlvmcAcpg