Budapest Forum 2023 - Tomorrow's Europe – Replacing Energy at the Centre of the European Political and Democratic Project
Participants
Eero Yrjö-Koskinen, Executive Director, Institute for European Environmental Policy
Benjamin Denis, Senior Policy Advisor, IndustriAll
Jesse Scott, Research Fellow, German Institute for Economic Research
Rosa Martinez, Manager on Transport, European Climate Foundation, Former Member of the Spanish Parliament
Stéphane Bourgeois, Leader, Collaborative Low Energy Vision for the European Region; European Relations and Policy Manager, NégaWatt Association
Moderator: Taube Van Melkebeke, Policy Manager, Green European Foundation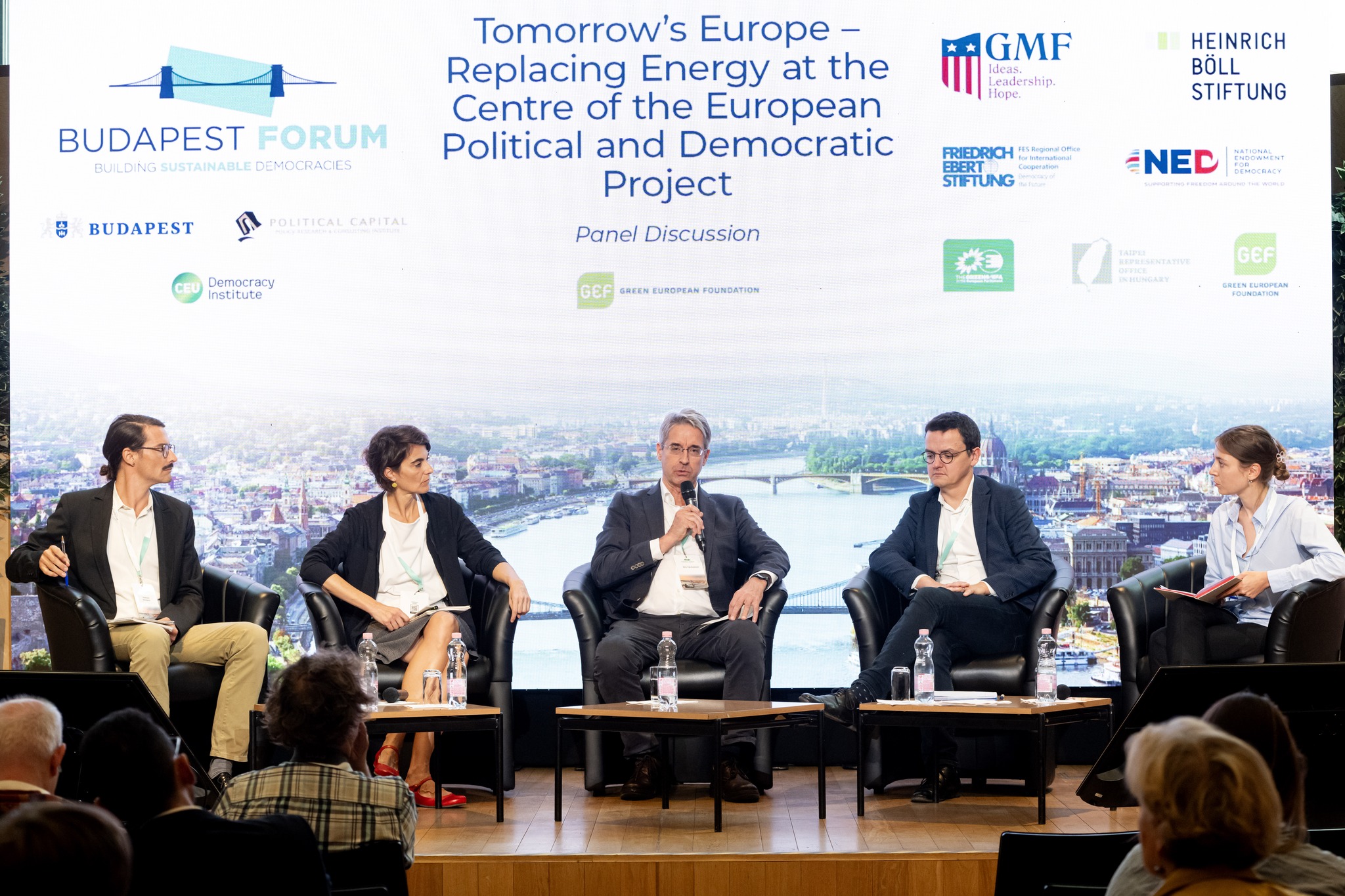 Main takeaways
Social acceptance is one of the key pillars for decarbonizing EU. And to achieve this, we need public leadership because people do not trust politicians. It needs to be shown that people will also benefit from the energy transition, not only big companies.
Public participation is lacking in Europe: for energy transition people need to be on board, they need to feel that they are part of it, therefore, there is a need to increase civil society's participation, making space for dialogue.
In many sectors in many member states they lack the resources and legal frameworks on how to anticipate change, how to advance decarbonization. Furthermore, not many countries have the conditions for reaching the target (EU Green Deal).
EU should take into account: energy is not only a matter of economy, but politics as well.
Public investments are needed, to improve our grids. And people need to understand that the investments are for the future.
The question of raw materials was also touched upon: EC suggested to focus on national production to produce minerals and metals for windmills and photovoltaic issues – it requires environmental and social impact assessments. Local governments should be consulted first and nature conservation should be taken into account.
In order to reach the target, the energy should be composed of 100% renewables. For example, geothermal energy is not considered enough (although it is capital-heavy).
Sufficiency (not only efficiency) is important when we talk about energy: it should get more visibility.
Policy recommendations
EU alone will not make it, all major economies need to be brought in – to implement decarbonization policies which are in line with the Paris Agreement.
There should be a European vision on the question of energy.
There should be a more coherent and more consensual European approach, which would give clear directions for companies as well.
Democracy should be present at workplaces as well, it should not only mean voting every 4 or 5 years. Democracy should be part of the conversations, decision-making processes: workers from multinational companies should be involved.
Employment (i.e., jobs) should be on the top of the policy agenda.
Social Climate Fund: the scope should be enlarged and it should be revisited.
There should be (even) more ambitious targets for energy transition.