Budapest Forum 2023 - Revisiting Energy Independence in the CEE Region: a Stocktaking
Speakers
Ada Ámon, Head of Department, Climate and Environmental Affairs, Budapest City Hall
Mihnea Cătuți, Head of Research, Energy Policy Group
Bas Eickhout, Member of the European Parliament, Greens/EFA
Balázs Felsmann, Associate Professor, Corvinus University; Senior Researcher, Regional Energy Policy Research Centre
Moderator: Edit Zgut-Przybylska, Researcher, Re:Constitution Fellow, CEU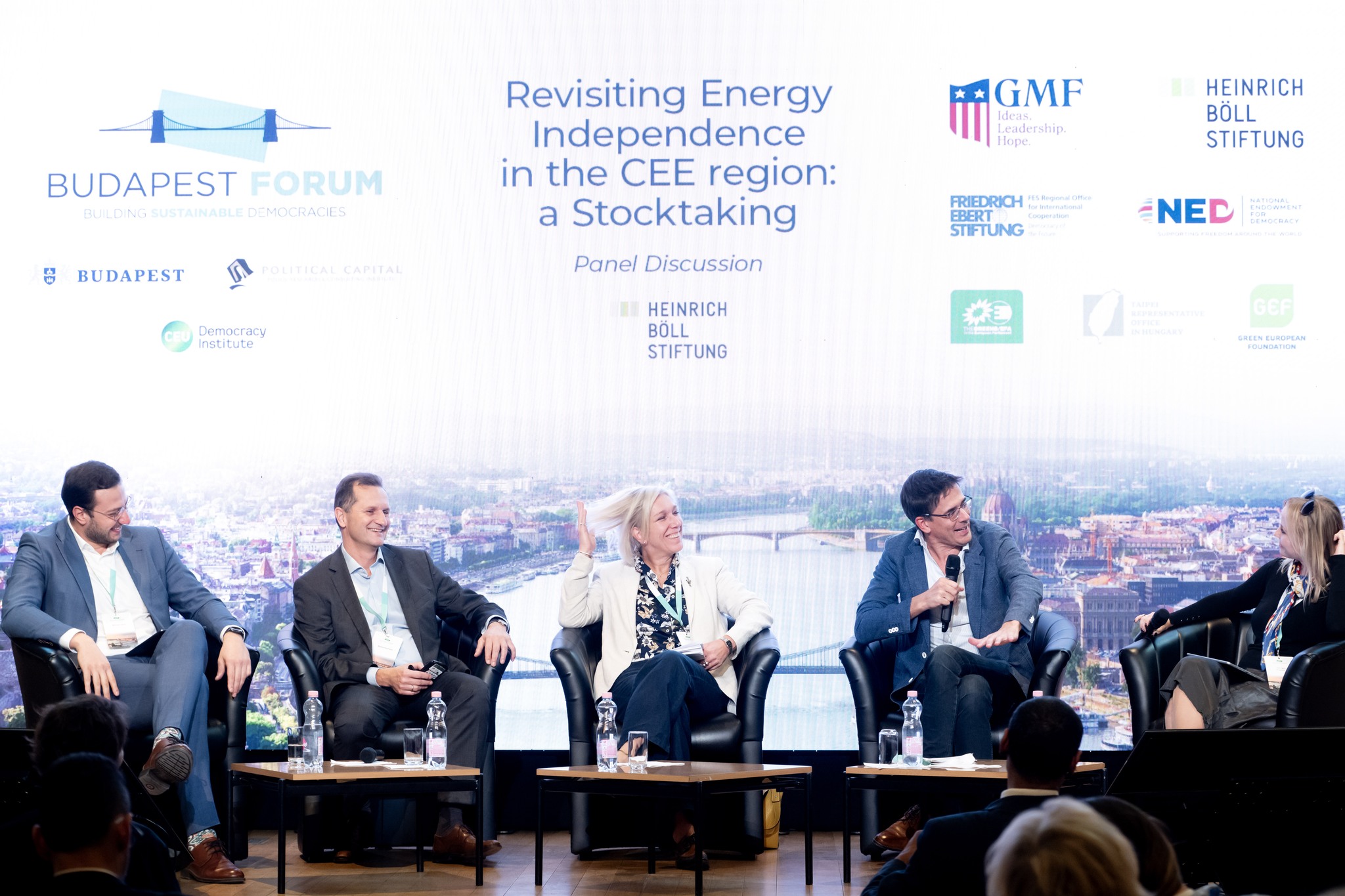 Main takeaways
Energy dependency has been fluctuating over the last 20 years. By reducing energy dependency from Russia (as per the REpowerEU program), "Europe is only replacing one dictatorship to other such regimes", said Bas Eickhout.
The EU is underperforming in energy sufficiency and efficiency.
Cities are huge energy consumers and it is important and easier to tackle some of the energy issues there first. (See more about direct funding here.) Cities need to create an environment where the climate-conscious choices for mobility become also the quickest, easiest and most comfortable modes of transport for its citizens.
Europe released its net zero industry act and critical raw material act: we pretend it is a question of industrial policy – although it is not. It is a question of politics as well.
There is a lack of innovation within the European car industry. China have been working on the industrial policy, and they realized that electrical cars are worthier. Europe should act on it as well (instead of complaining about China).
Connected to car industry, the battery factories are going to be (are already) a core topic. We need to think about national battery creating, but need to think carefully: first the nasty questions need to be raised instead of focusing on reducing dependencies from Russia or China.
To reach climate neutrality, carbon capture and storage (CCS) is necessary. As opposed to some critiques, it does not support fossil-heavy industries.
The best is if people can produce their own energy: it is the more democratic as well. However, energy is a power tool over citizens, that is why national government do not prefer to decentralize the energy system.
Policy recommendations
We need longlasting programs. Need to focus on other things, not only to diminish dependency.
Energy Union: the biggest problem is that EU member states do not trust each other. (For example France is not so interested in non-nuclear solutions.)
There is a need in Europe for strategical thinking.
Balázs Felsmann believes that in Hungary it is not possible to become independent even with solar panels. Instead, a crossborder corporate level coordination would solve this issue. Additionally, regional cooperation should also be a priority for the CEE region since Hungary is lacking the natural resources while neighbouring countries have everything.
According to Ada Ámon, energy resilience is a better term (than energy independence). The first step should be to lower the demand for energy and the second step is to satisfy the demands by supplying locally and with renewable sources and technologies.
Helping citizens with information in order for them to be able to make informed decisions about energy consumption (for example: instead of exchanging gas consumption to electricity due to the artificially lowered prices, they should invest in making their home more energy-efficient). New financial schemes for households to be refurbished (and make them more energy efficient).