The activity of pro-Russian extremist groups in Central-Eastern Europe

About the project
Political Capital documented the conducted research on Russian actors and hate groups in Central Europe and raised awareness of this pernicious influence among the wider public throughout 2016-2017 within the project supported by the National Endowment for Democracy.
Together with partners from the Czech Republic, Hungary, Slovakia, and Poland, as well as Austria, Political Capital worked to produce comprehensive studies on the Russian influence and impact on the far-right in these countries. The studies provide a precise picture of the scope of the problem, as well as formulate recommendations.
Infographics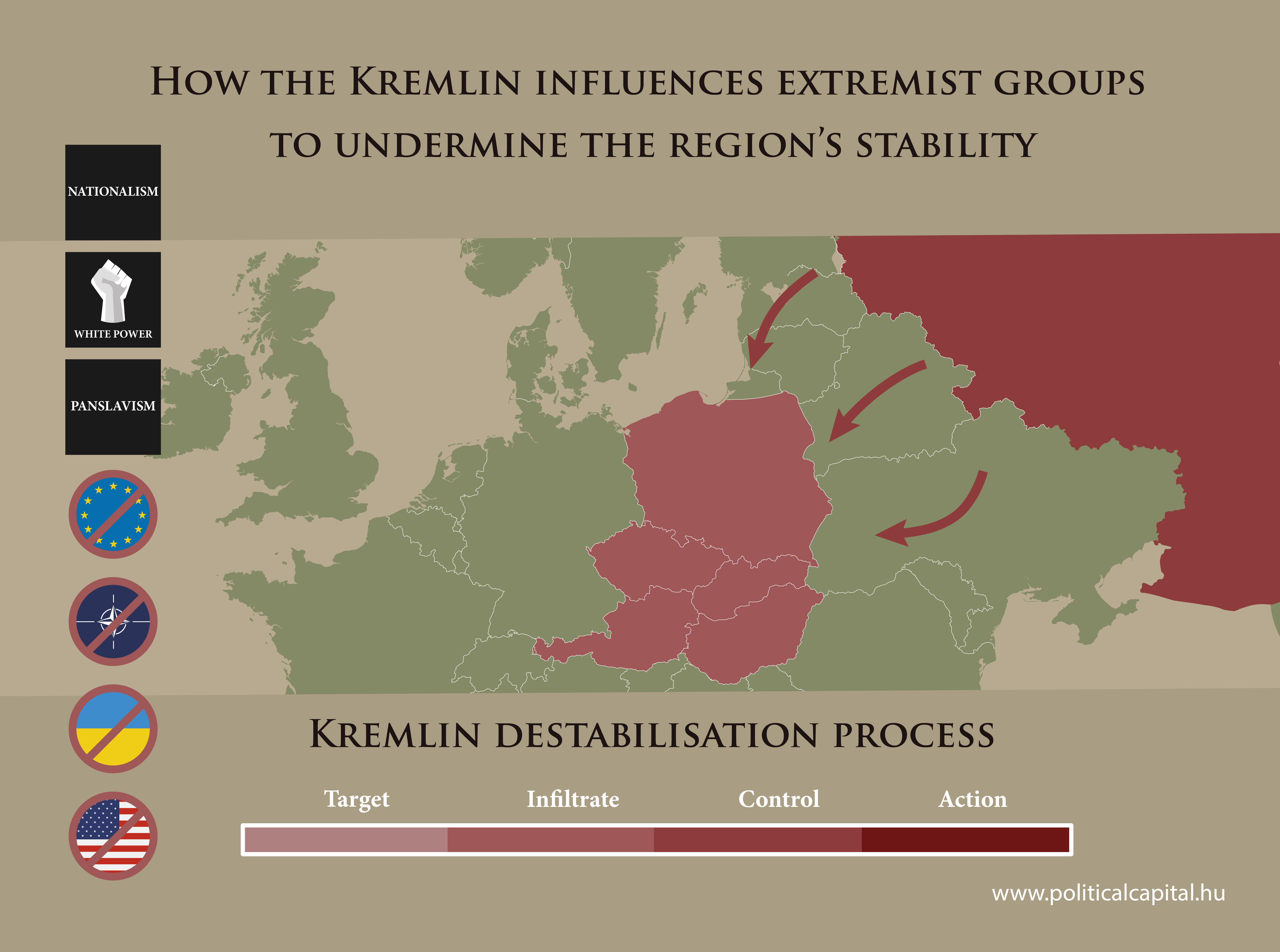 Key findings
Political Capital's recent research covering Austria, the Czech Republic, Slovakia, Hungary, and Poland is the first research project that focuses mainly on the violent ramifications of Russia's regional influence. The country case-studies describe how the Kremlin's strategy supports fringe, extremist or paramilitary organisations in order to undermine bilateral ties with Ukraine and the United States, and destabilise the region after 2014.
The research highlights that these organisations are posing a national security threat throughout the region by keeping their secessionist, revisionist, and ultranationalist cross-country historical grievances dating back to World War Two alive. Bargaining with the territorial disintegration of states and supporting secessionist movements is not something new in the Kremlin's playbook: Russia has been involved in similar activities all over the Western world, assisting actors ranging from the Italian Lega Nord to the Californian secessionist movement.
The five case-studies and the comparative regional study are all prepared with the involvement of local experts and investigative journalists in the respective countries. We are grateful to the authors and institutions listed below.
Authors and contributors
Austria
Fabian Schmid – investigative journalist, Derstandard.at
Dr. Bernhard Weidinger – analyst, Documentation Centre of Austrian Resistance (DÖW)
Czech Republic
Jakub Janda – Head of Kremlin Watch Program and Deputy Director, European Values Think Tank
Petra Vejvodová PhD. – Assistant Professor, Department of Political Science – Faculty of Social Studies, Masaryk University, Brno
Veronika Víchová - analyst, European Values Think Tank
Hungary
András Dezső and Szabolcs Panyi – investigative journalists, Index.hu
Lóránt Győri – geopolitical analyst, Political Capital
Attila Juhász – director, Political Capital
Péter Krekó PhD. – senior affiliate at Political Capital Institute, Visiting Professor at Indiana University, and Assistant Professor at the Eötvös Loránd University of Sciences
Edit Zgut – foreign policy analyst, Political Capital
Poland
Michal Kacewicz – investigative journalist, Newsweek.pl
Łukasz Wenerski – analyst and project manager of European Programme, Institute for Public Affairs (ISP)
Slovakia
Radovan Bránik – independent security expert and blogger
Grigorij Mesežnikov PhD. – president, Institute of Public Affairs (IVO)
Daniel Milo JUDr. – senior Research Fellow, and head of Strategic Communication Programme at the GLOBSEC Policy Institute
List of publications
Summary reports
Country reports