Anti-gender and anti-LGBTQI mobilisation in Hungary: evolution, actors, networks
Anti-gender and anti-LGBTQI mobilisation in Hungary has increased spectacularly in recent years, mainly due to political reasons. Mobilisation is largely centrally driven. Its leading actor is the government/governing party, which has made the issue a central element of its ideology and a key instrument for holding on to power. Through the government-organised media, NGOs and think tanks, Fidesz actively manages the issue, sets the direction for mobilisation, provides resources, creates and supports organisations, and exerts a strong influence, directly or indirectly, on other actors. Alongside them, allied family, youth and anti-abortion organisations, far-right actors and, to a lesser extent, religious organisations play an essential role. Some Hungarian actors, especially the government, the government-organised media, NGOs and think tanks, and certain independent actors are firmly embedded in the international anti-gender and anti-LGBTQI network. International connections are crucial for Fidesz both in terms of creating an apparent international legitimacy and in terms of building alliances and gaining influence abroad (see efforts for a joint EP political group with far-right parties).
Political Capital's research aimed to map the actors involved in anti-gender and anti-LGBTQI mobilisation in Hungary as well as their networks abroad. A summary of the research's results can be found below in Hungarian, and the full study is available in English in both longer and shorter versions.
We have drawn heavily on previous research on the subject. In this light, we owe special thanks to three individuals whose work was essential to our study and from whom we borrowed a wealth of data and insights. In alphabetical order, Kata Bálint, an analyst at the Institute for Strategic Dialogue, Eszter Kováts, a researcher on anti-gender politics who has just completed her PhD on the topic, and Márton Sarkadi Nagy, a journalist of Átlátszó.
Our other materials on the topic:
You can access the results of our research comparing the anti-gender and anti-LGBTQI mobilisation in Hungary and Poland here.
You can listen to our podcast comparing the anti-gender and anti-LGBTQI mobilisation in Hungary and Poland here.
Main findings of the research
The political mobilisation against gender identity and LGBTQI issues in Hungary has consisted of two major phases.[i]

The first phase (2008-2017) was neither consolidated nor strategic, driven primarily by individual actors rather than a concerted government-led campaign.
The second phase (2017-present) can be characterised by the conscious and strategic instrumentalisation of these issues by the governing Fidesz party for political advantage. This mobilisation has been well aligned with the government's existing right-wing populist narratives.

Anti-gender and anti-LGBTQI legislative policies can be divided into two categories[ii]:

Preventative acts intended to stop Hungary from emulating Western liberal policies;
Legislation that curbs acquired rights or limits their ability to be exercised.

The Fidesz government and its proxies (government-organised NGOs, think tanks and media, semi-independent family and anti-abortion organisations and far-right groups) have been the main disseminators of anti-gender and anti-LGBTQI narratives.
The main drivers of international networking are government officials and government-organised NGOs, with only a limited number of (semi-) independent Hungarian actors being well-embedded in international networks. The main platforms for networking are international events and Hungarian branches of international organisations.
Foreign actors and networks give the Hungarian government legitimacy and international recognition, which Fidesz can then sell to its domestic audience. In return, foreign allies present Hungary as a legitimising ally to their domestic audiences.
The Hungarian government has strategically established connections with conservative US actors to boost its image in the USA and the larger international arena. The leading Hungarian actors with US connections are the Mathias Corvinus Collegium and the Center for Fundamental Rights.
Russia has had a clear impact on Hungary's LGBTQI narratives and policies, including providing a model for the "gay propaganda law" passed under the guise of child protection. While direct connections between Fidesz (and its proxies) and the Russian government were remarkably prominent a few years ago, they have become less prevalent, likely due to increased Hungarian-Western relations. The major exception has been strengthening the relationship between the Hungarian government and the Russian Orthodox Church. Russian media also play a key role in lauding PM Orban and his conservative policies.
Connections with German actors[iii] are currently less important for the Hungarian players than connections with American and regional partners, likely because the relevant German actors have not yet become part of the political mainstream in Germany. However, since gender is one of the focuses of the new German government, the relevance and impact of the anti-gender discourse can increase in the coming years.
Poland is Hungary's closest ally vis-à-vis anti-gender mobilisation, as demonstrated by the increasing cooperation between the Centre for Fundamental Rights and Ordo Iuris. Although Poland is more conservative concerning reproductive rights, when it comes to LGBTQI rights, we can observe similar developments in both Hungary and Poland, with Hungary being more restrictive in some respects and Poland in others.
While Poland and Hungary are clear pioneers of anti-gender and anti-LGBTQI policies in the region, some political actors in other countries are open to following suit. For instance, some MPs in Romania and Slovakia have unsuccessfully attempted to get their parliaments to pass similar "LGBTQI propaganda" laws so far.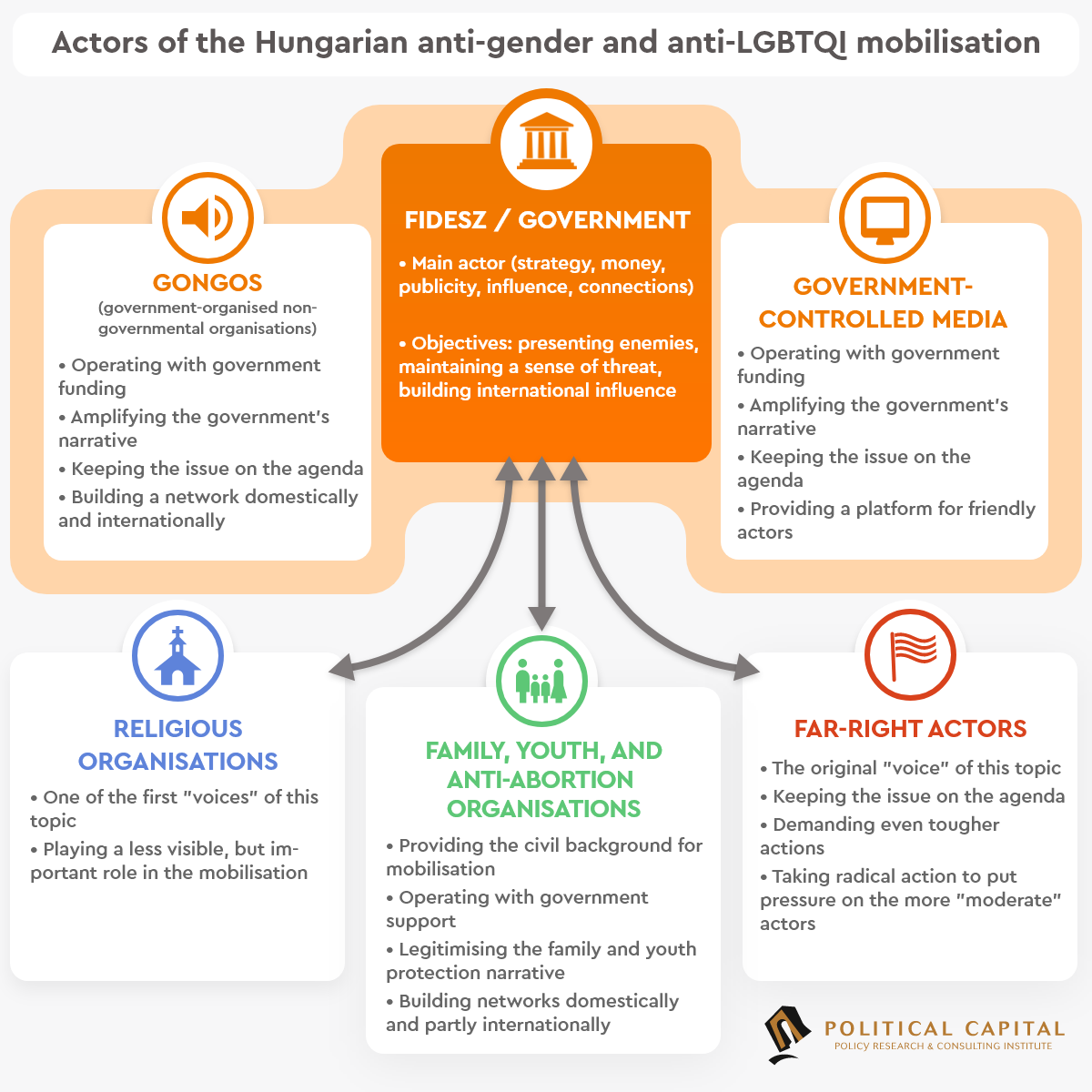 [i] Findings regarding the timeline of the mobilisation in Hungary, especially the classification into two phases (before and after 2017) is based on the following work: Kováts, Eszter (2021) Ellenségkép, hegemónia és reflexió. A gender fogalmának tartalma és funkciója az Orbánrezsim és a német radikális jobboldal politikájában. Doctoral thesis. Budapest: Eötvös Loránd Tudományegyetem Állam- és Jogtudományi Kar Politikatudományi Doktori Iskola
[ii] The classification of Hungarian legislative acts into two categories, preventive and rights-limiting legislation, is based on the following work: Kováts 2021
[iii] The presentation of the connections between Hungarian and German anti-gender and anti-LGBTQI actors and the lessons drawn from it are based on Eszter Kovásts's dissertation: Kováts 2021