Digital Authoritarianism and the Sharp Power Influence of China
A joint webinar organized by Wilfried Martens Centre for European Studies and Political Capital Institute
The main questions of the event
How does China export its digital authoritarianism?
How does China use mask diplomacy to gain more influence during the coronavirus crisis?
Will China's sharp power strengthen or decline as a result of the pandemic?
What impact does the pandemic have on Taiwan and Hong Kong? How is China trying to curb democratic attempts in its orbit at the time of the pandemic? How successful are these attempts?
How is Russia trying to gain more influence in Central & Eastern Europe, using the pandemic as an opportunity?
What should EU institutions do to strengthen immunity to China's sharp power influence?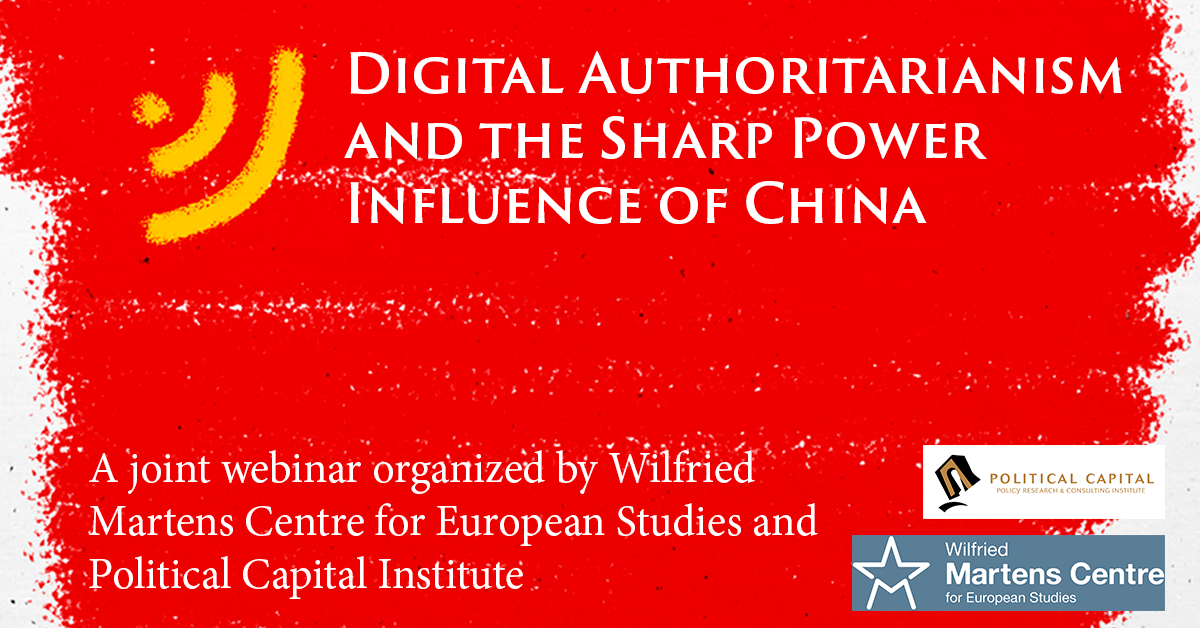 Venue: Zoom (online event)
Date: May 29, 2020, 10:30-11:45
Language: English (without translation)
10:30-10:40 Welcoming remarks
Roland Freudenstein – Wilfried Martens Centre for European Studies, Policy Director
Péter Krekó – Political Capital, Director, Europe's Futures Fellow, IWM/ERSTE Foundation
10:40-11:55 Introduction of the paper: Made in China: Tackling Digital Authoritarianism
Dimitar Lilkov – Wilfried Martens Centre for European Studies, Research Officer
10:55-10:45 Roundtable
Roland Freudenstein – Wilfried Martens Centre for European Studies, Policy Director
Tamás Matura – Central and Eastern European Center for Asian Studies, Founder; Corvinus University of Budapest, Assistant Professor
Ágnes Szunomár – Centre for Economic and Regional Studies Institute of World Economics, Senior Research Fellow, head of Research Group on Development Economics
moderator: Péter Krekó, Political Capital
Please, register at the following link by 27th May: https://forms.gle/2PtQMjwbSrZEHp8S9