The War against Ukraine, disinformation, and the image of the United States - Discussion with Michael Weiss
An event by Political Capital with the support of the US Embassy Budapest
Venue: Hotel Moments Budapest (1061 Budapest, Andrássy út 8.)
Date: 8 June 2022 14:00-16:00
Language: English (with Hungarian translation)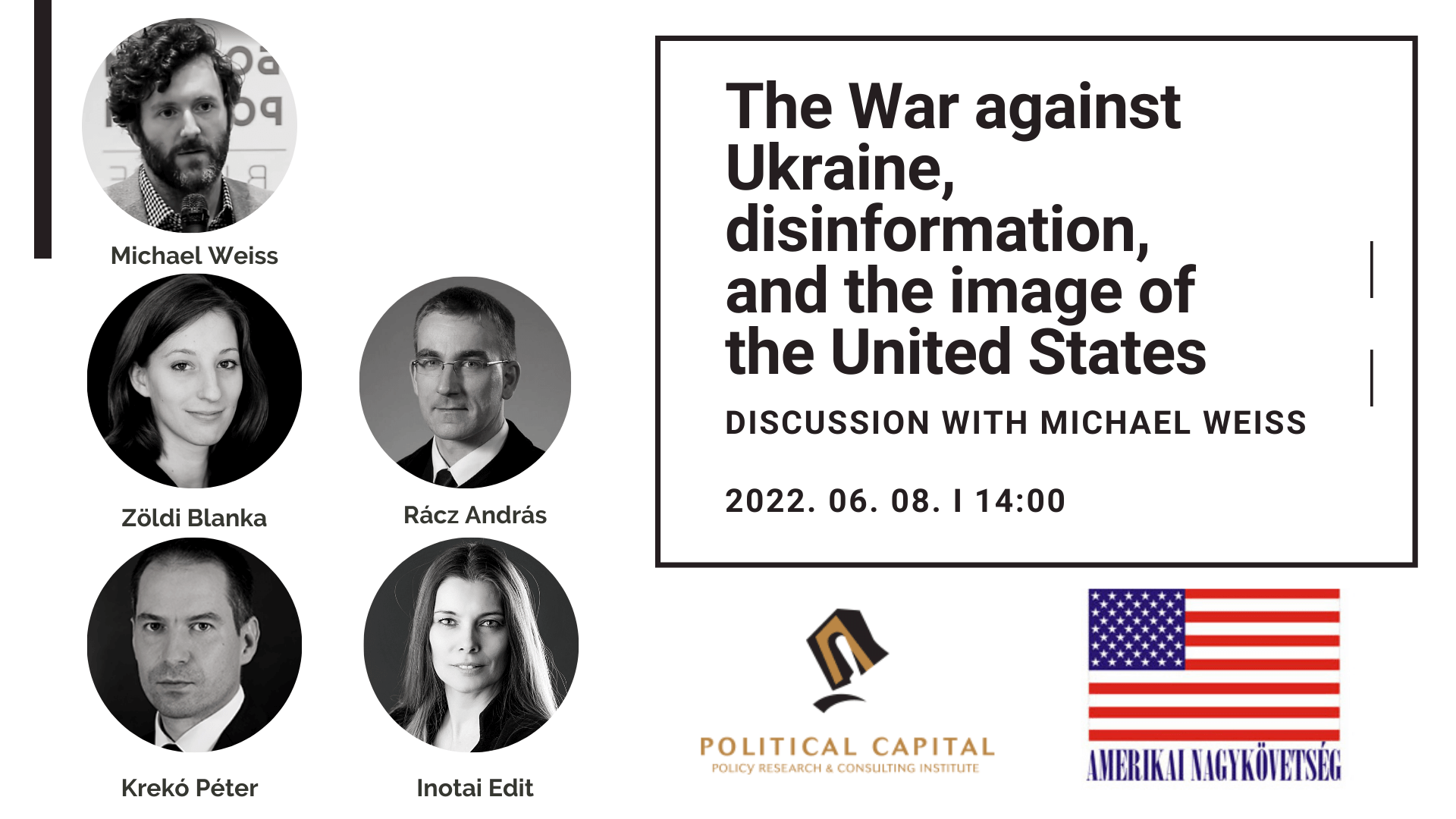 Russia's war against Ukraine was preceded and followed by a large new wave of pro-Kremlin disinformation– not only against Ukraine, but against the EU and the United States as well.
Our special guest to discuss these issues will be a renowned expert on disinformation, Michael D. Weiss. Michael is an internationally respected investigative journalist who has covered the wars in Syria and Ukraine and published widely on Russian espionage and disinformation. He is a co-author of Inside the Army of Terror and The Menace of Unreality: How the Kremlin Weaponizes Information, Culture and Money. His first publication on ISIS was a New York Times Best Seller and named one of the Top Ten Books on Terrorism by the Wall Street Journal as well as one of the Best Books of 2015 by The Times of London. It has been translated into seventeen languages, including Hungarian. He writes a column for The Daily Beast and serves as Consulting Executive Editor for Coda.Story. He is news director at the New Lines magazine, contributing editor at The Daily Beast, and director of special investigations at the Free Russia Foundation. He is a regular contributor to CNN and also worked for the CNN Investigates team as Investigative Reporter for International Affairs. He is a regular guest on MSNBC, the BBC and Real Time with Bill Maher as well. He is currently working on his new book on psychological warfare conducted by the Russian Military Intelligence Center (GRU).
After Michael shares his thoughts, Political Capital Institute will introduce the results of a research project on how the past years, and especially the war of Russia against Ukraine shaped the image of the United States in Hungary.
Program
14:00-14:10 Welcome remarks
Derek Westfall – Acting Deputy Chief of Mission, US Embassy to Hungary
Péter Krekó – director, Political Capital Institute, Senior Fellow, CEPA
14:10-14:40 The Russian War against Ukraine and disinformation
Michael Weiss – journalist and author
14:40-14:50 The image of the United States in Hungarian media – presentation of Political Capital's study
Patrik Szicherle – analyst, Political Capital
14:50-15:45 The US in pro-Kremlin disinformation narratives about Ukraine – roundtable
Péter Krekó – director, Political Capital Institute, senior fellow, CEPA
András Rácz – Senior Research Fellow, Center for Strategic and Defense Studies, National University of Public Service
Michael Weiss – journalist, author, disinformation expert
Blanka Zöldi – editor-in-chief, Lakmusz
Moderator: Edit Inotai – journalist
15:45-16:00 Q&A
To attend the event, please register on the following link: